If you have never visited Telluride before, you may be wondering – where should I stay? Should you stay in quaint, charming Telluride town or majestic Mountain Village? Here, we will decipher the main differences between the two locations. Each town offers its own experience for guests, and there are definitely some distinct advantages to each, depending on the kind of vacation that you are planning. A few questions we always ask our guests, to help them decide which location is best include:
Are you visiting during winter or summer?
Do you have small children with you?
Do you value maximum peace & privacy, or do you like to be right amongst the action?
Do you prefer the convenience of a rental where yo can walk to shops & restaurants or a large, private estate where you can't see your neighbors?
One important thing to remember is that the two towns are connected by a free gondola system that runs from 7am – 12 midnight daily. Not only does the gondola provide free, convenient transportation between the two towns, but it is also one of the most spectacularly beautiful commutes in the world. In addition to this, if you have small kids and you are looking for an activity that doesn't require a lot of effort, a ride on the gondola is the perfect way to keep the little one's entertained!
Is the town of Telluride for you?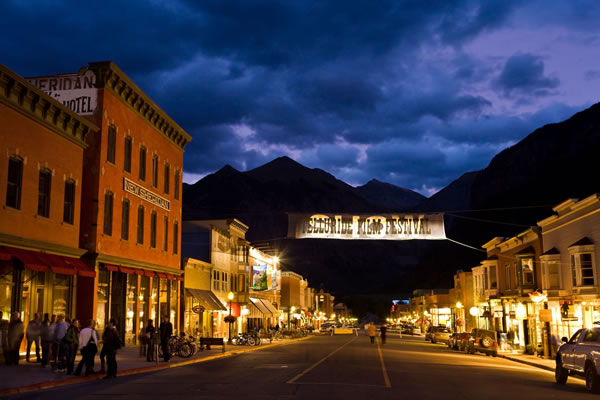 Telluride is an historic mining town tucked in a majestic box canyon at 8750 feet. Surrounded by 13 & 14,000 foot peaks, cascading waterfalls, Elk filled meadows and thriving Aspen groves, there's no denying that Telluride's natural beauty is absolutely breathtaking. Many a first time visitor on Main Street can be overheard expressing, "Is this place for real?".
Around Town
Not only is Telluride blessed with insane natural beauty, but Telluride's local charm and friendly small town vibe captivates even the most experienced world travelers. The town of Telluride is home to approximately 2300 full time, year round residents. It is eight blocks wide (at its absolute widest) and fifteen blocks long (at its longest). Telluride may be a small mountain town, but what it lacks in size, it makes up for with it's very big personality. If you love staying in a place with an authentic, historic atmosphere where all of the cosmopolitan offerings are just a short stroll away, then Telluride town is for you! Most of the restaurants, bars and shops are located in Telluride town. As are all of the major festivals during the summer months. Telluride Town Park is located in Telluride, and is home to the major music festivals that we are famous for. This includes the Telluride Bluegrass Festival, the RIDE Festival and the Blues & Brews Festival. The world famous Telluride Film Festival is also based in Telluride town, as is the fast growing Telluride MountainFilm Festival in May.
Ski Access
You can access the Telluride Ski Resort directly from town. Telluride is one of only three ski towns in America where you can ski right into an historic mining town. Located at the southern end of Oak Street is the gondola station, which takes you up to the San Sophia overlook, or further into Mountain Village where the ski school meets. Right by the gondola is Chair 8 which takes you up to the Chair 9 lift. On the west end of town is Chair 7 (the Coonskin lift).
You should stay in Telluride if you:
like to step out your door to and enjoy cafe's, restaurants & local mountain vibe
prefer quaint, Victorian style vacation rentals
want to be right amongst the action during festivals
like to stay our late at night and enjoy the local scene
SEARCH TELLURIDE VACATION RENTALS
Or should you stay in Mountain Village?
The town of Mountain Village, situated at 9450 feet elevation, offers more of a resort town atmosphere for holiday makers. Surrounded by the Telluride Ski Resort & Golf Club, Mountain Village is a a purpose built, European style pedestrian village. There is the main 'village core' area, and then the surrounding areas which are spread out over the ski runs and the golf course.
Ski Access and Views
Designed to meet growing demands of the ski area, Mountain Village is different to Telluride in that it is characterized by large hotels, luxury condo complexes and sprawling mountain estates. Many of the residences in Mountain Village offer direct ski access, or slopes within just a few minutes walk. The views from Mountain Village offer a very different perspective when compared to Telluride town, but are no less awe inspiring. To the north is the dramatic San Sophia mountain range, while the La Sal mountains of Utah can be seen in the distance to the west. Mountain Village offers a selection of cafe's, restaurants and boutiques for visitors.
Dining
If you decide to stay in Mountain Village, you don't have to ride the gondola down to town each night, as there are excellent options for dining and entertainment. Casual options include Tracks Cafe & Bar, Le Pizzeria, The Black Iron Bar & Grill, Tomboy Tavern and Crazy Elk Pizza. More formal dining options include La Piazza and Rev Restaurant.
Activities
During the winter months, you can take the kids for an ice skate around the Mountain Village Ice Rink or they might want to take a turn on the Gravity Play Bungee Trampoline which gets set up in the spring and goes through the summer.
When selecting a vacation rental in Mountain Village, it's important to be aware of the different locations. There is the main village core area where everything can be accessed by foot, and there are also many condos and homes that you will require a vehicle to access the village core. There is a complimentary dial-a-ride service in Mountain Village which is like a free taxi service.
Mountain Village is an ideal choice if you:
are visiting during the ski season & prefer the most seamless ski access. If you have small children this is often an important consideration.
prefer a vacation rental property that is spacious, private & peaceful.
are searching for a large, luxury mountain estate with ski in/ski out access and five star amenities including media rooms, hot tubs and uninterrupted high alpine views.
seek easy access to the golf course during the summer months.